287 AG, LLC is a Christ-centered, family owned and operated, supplier of Livestock handling and feeding equipment as well as agricultural fence supplies. For many years our main business was Ag Construction; building cattle working pens, horse facilities, barns, etc. With that experience we are able to help our customers find the best products to meet their needs.
Our owners were born and raised right here in the Texas Panhandle. We value our roots and the legacy of integrity and hard work that was passed down to us. We hope you'll give us an opportunity to earn your business.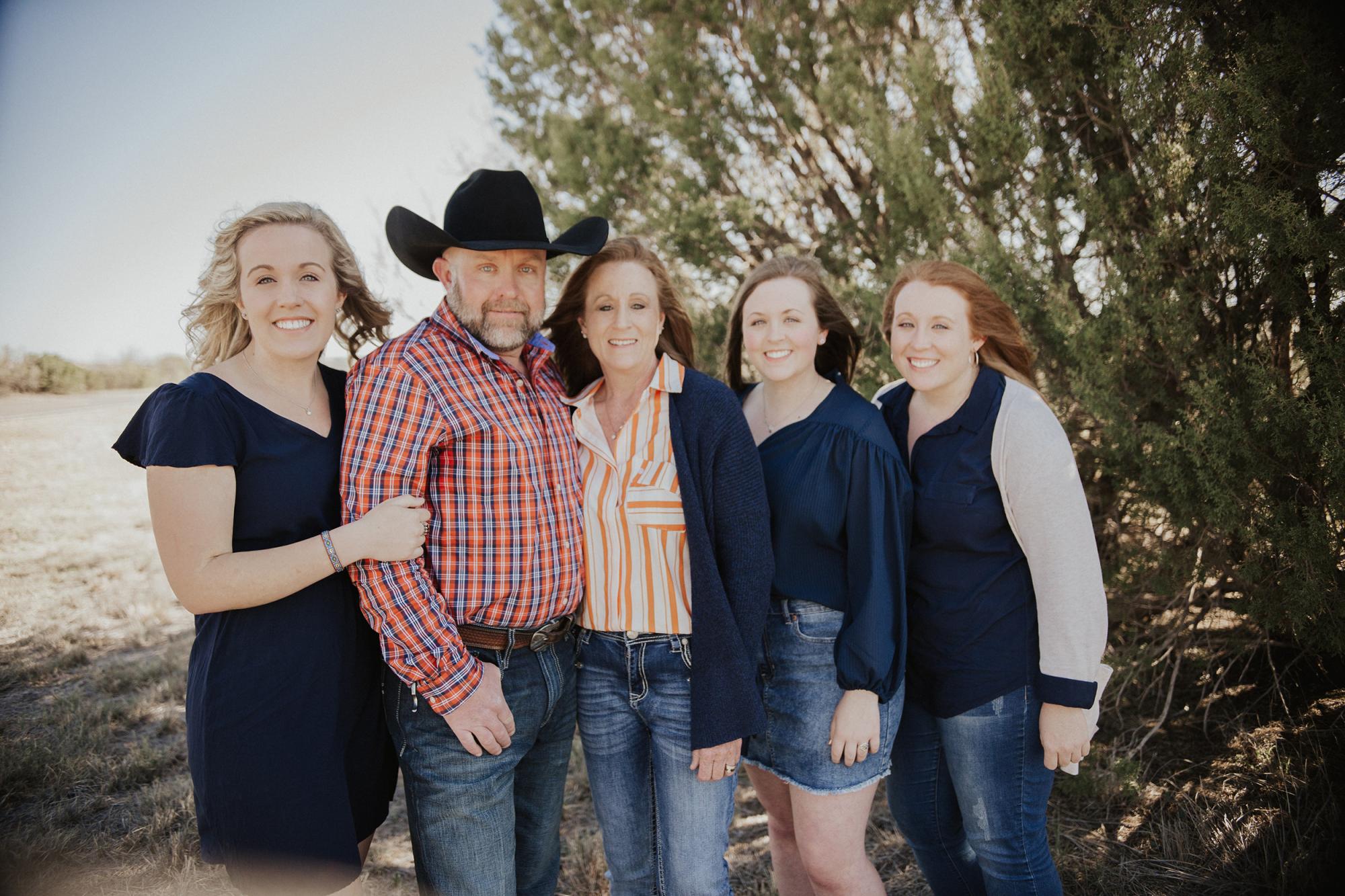 In 2010 Jess Little took a giant step of faith…After having spent 20 years in full-time pastoral ministry he decided to start a church in his home. This of course meant he would have to find a means to support his family. He went to work for one of his long-time friends who was a fence contractor building ranch fence and corrals. After a few months Jess decided to step out on his own. He quickly became busy doing Agriculture construction; building pipe fence, corrals and metal buildings. During this first year he was introduced to GoBob Pipe & Steel. Soon after he became a dealer for them. He would work all week in construction and then on Saturday's leave at 3:00 am and drive the 350 miles to GoBob to pick up inventory. For the next few years Jess continued his construction business and sold GoBob products on the side. Everything changed in September of 2015 when Jess fell deathly ill with nuro-invasive West Nile Encephalitis. For the next few months he was homebound, and just like that, he was out of the construction business. As he began to recover it was apparent he would never be able to go back to construction due to the impact of his illness. At that point he and his wife made the decision to rebrand their business and go straight retail selling livestock handling and feeding equipment and fence supplies. At that time, they changed the name to 287 AG and Jess poured his energy into making it work. God has blessed Jess; his family and business and they give him all the glory! For several months, before even an office was ready, Jess would set in his pickup on the yard waiting on customers. Handwritten invoices and a bank bag were used until he could enter everything into his computer at night when he got home. Things have changed. No longer do we office out of a pickup. By the grace of God 287 AG begin to grow immediately. We quickly became GoBob Pipe & Steel's largest dealer in the nation. We began to add more inventory, more vendors and new product lines as demand called for it. We now stock an enormous amount of inventory to meet the needs of the farmers and ranchers we serve. By the end of 2018 the business had grown to the point that Jess could no longer do it all by himself. The beginning of 2019 would usher in a big change at 287 AG. First, Jess' dad retired and moved to Claude and began to help at the store part time. Then his middle daughter, Lauren, would come home to help him and make 287 AG a true family owned and run multigenerational business. Now there three generations of "Little's" working here.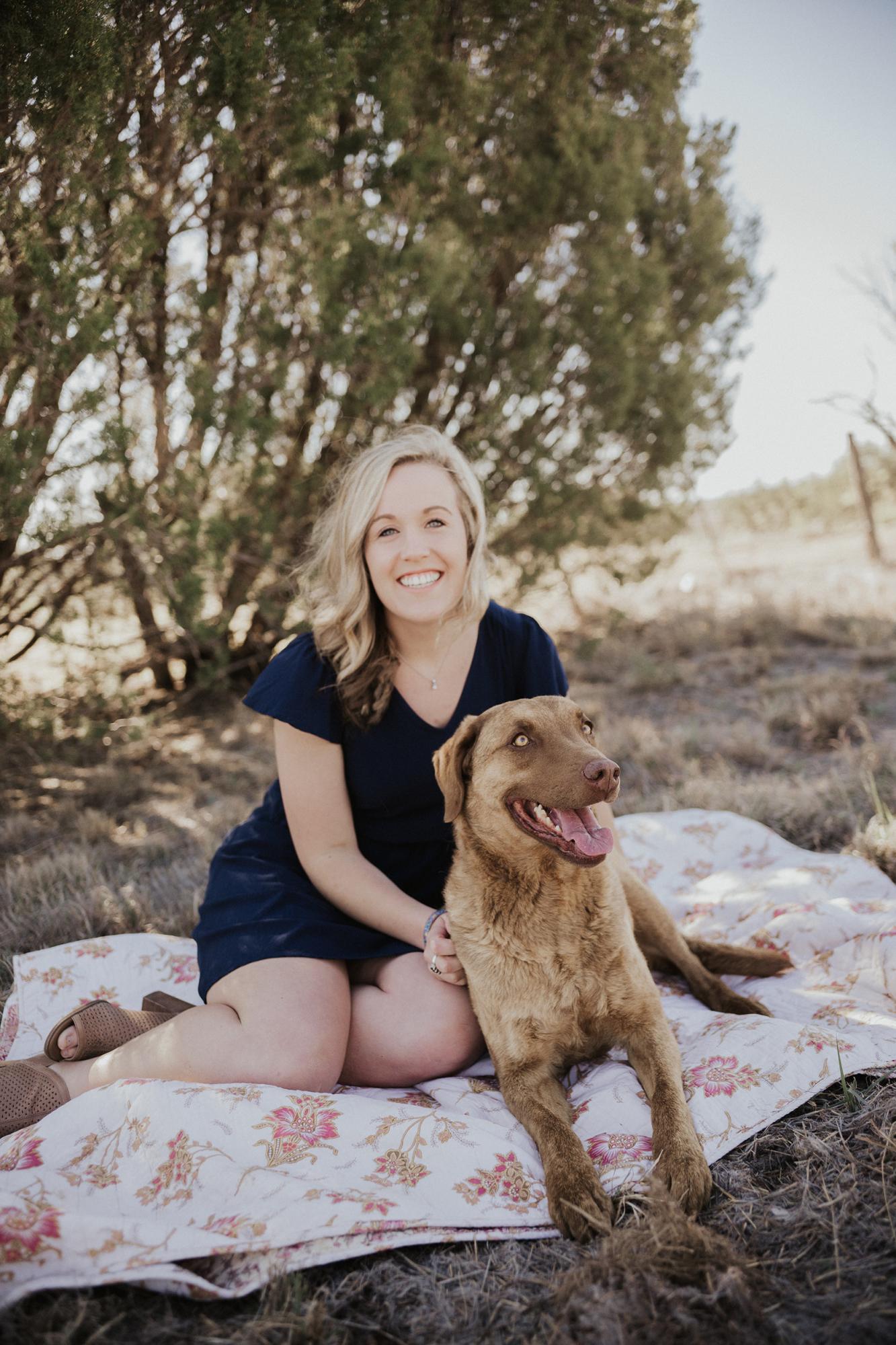 Lauren was raised in Claude and graduated from Claude High School as Valedictorian of her class. While growing up she helped her dad in the summers build fence and co-owned (with her two sisters) a successful lawn care business. After graduation she attended Tarleton State University where she earned a degree in Business Administration. The week after her college graduation a Fortune 500 company offered her a job at their corporate headquarters. Within a few months she had been given her own team and was excelling in her work. Toward the end of 2018 she was poised to receive two big promotions when she told her dad that she didn't think she was cut out for the Fortune 500 Corporate world. Jess immediately told her that he had a spot for her if she was interested in coming home to help with the family business. This had been Lauren's dream since college so she spent the next couple of months praying about it. It became apparent to her that God was opening a door for her to pursue her dream. When her contract expired in January of 2019 she notified her company she would be leaving. Now she and Jess work side by side running 287 AG. Lauren brings a fresh vision for the future to the business. She is intelligent, articulate, personable, genuine and has a love for people. Most all of our customers say she is the best thing that has ever happened around here.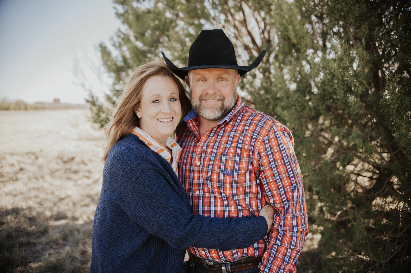 Lauren Little - Morrison
&
Roux
We pride ourselves on our customer service! Whether you are shopping in person at our store, or we are shipping products to you anywhere in the US, we want you to be satisfied! Our main line of livestock handling and feeding equipment is manufactured by GoBob Pipe & Steel. As their largest and highest volume dealer in the US we are able to ship anything they offer, anywhere in the US, straight from the factory saving you money! We also maintain the largest inventory of GoBob products of anyone in the nation on hand right here in the Texas Panhandle.
Right up front we want you to know we are Christians. We realize stating that will immediately cause many to scrutinize every thing we do. And that's okay. Accountability is a good thing and keeps us focused on "practicing what we preach".
H. Jess Little was raised in Stratford, Texas. After graduation he attended Howard County Junior College (now Howard College). While there he founded and was the first President of the HCJC Rodeo Team and rode bulls for them. After college he worked on several ranches in the Texas Panhandle and Eastern NM before he would move to Guymon, OK to be the Cattle Foreman for Hitch Ranch Feed Yards. A few years later God would call him into ministry. He attended Wayland Baptist University and spent the next 40 years pastoring churches in Texas. He stayed active in the Agricultural world by raising horses, trading horses and day working for various ranches on the side. Upon retirement he and his wife Linda sold their mares, stud and all but two of his home raised geldings and moved to Claude. Big Jess now helps out at 287 AG part time and enjoys still getting to day work. Sometimes he'll even ride his horse to work.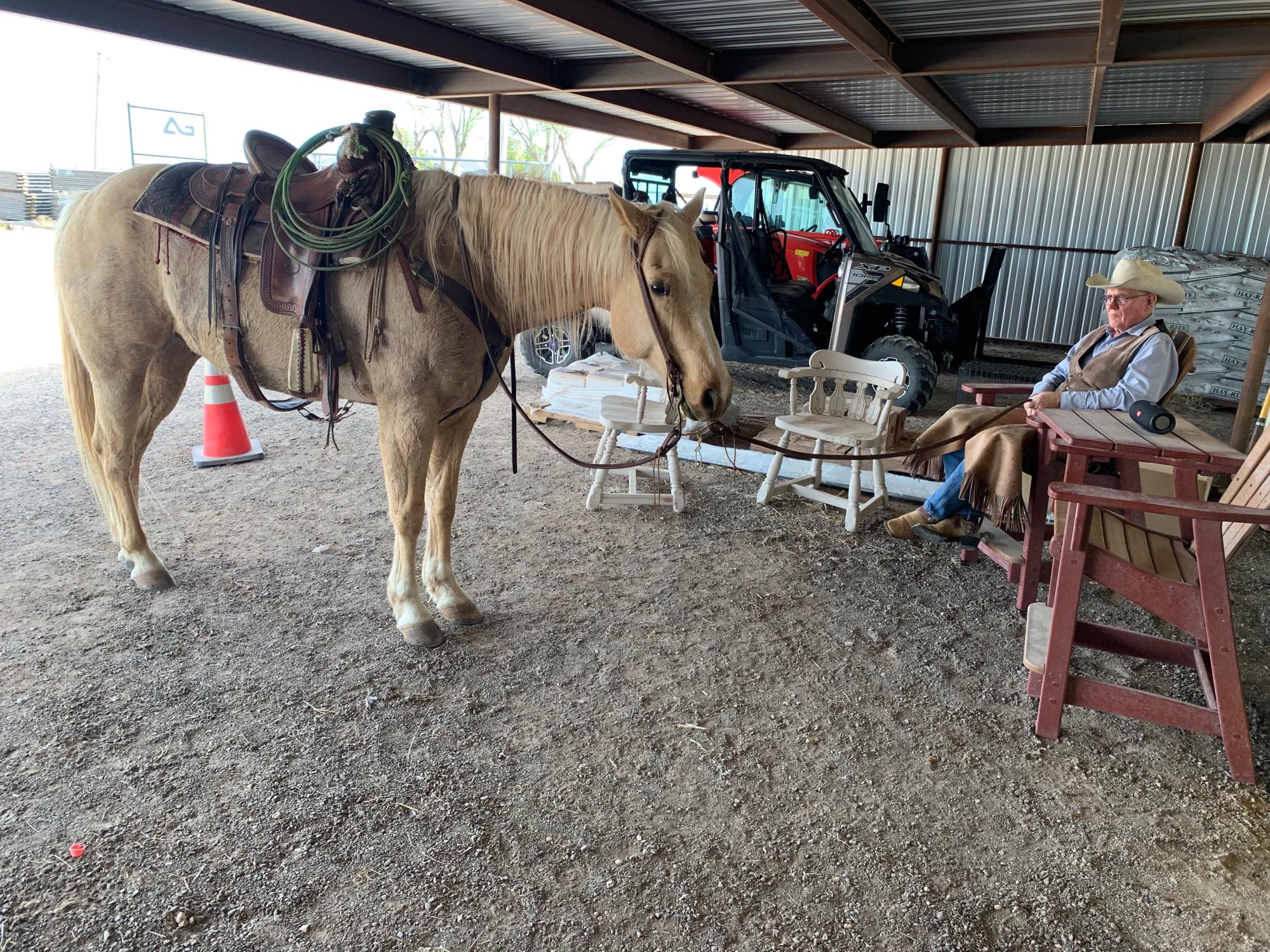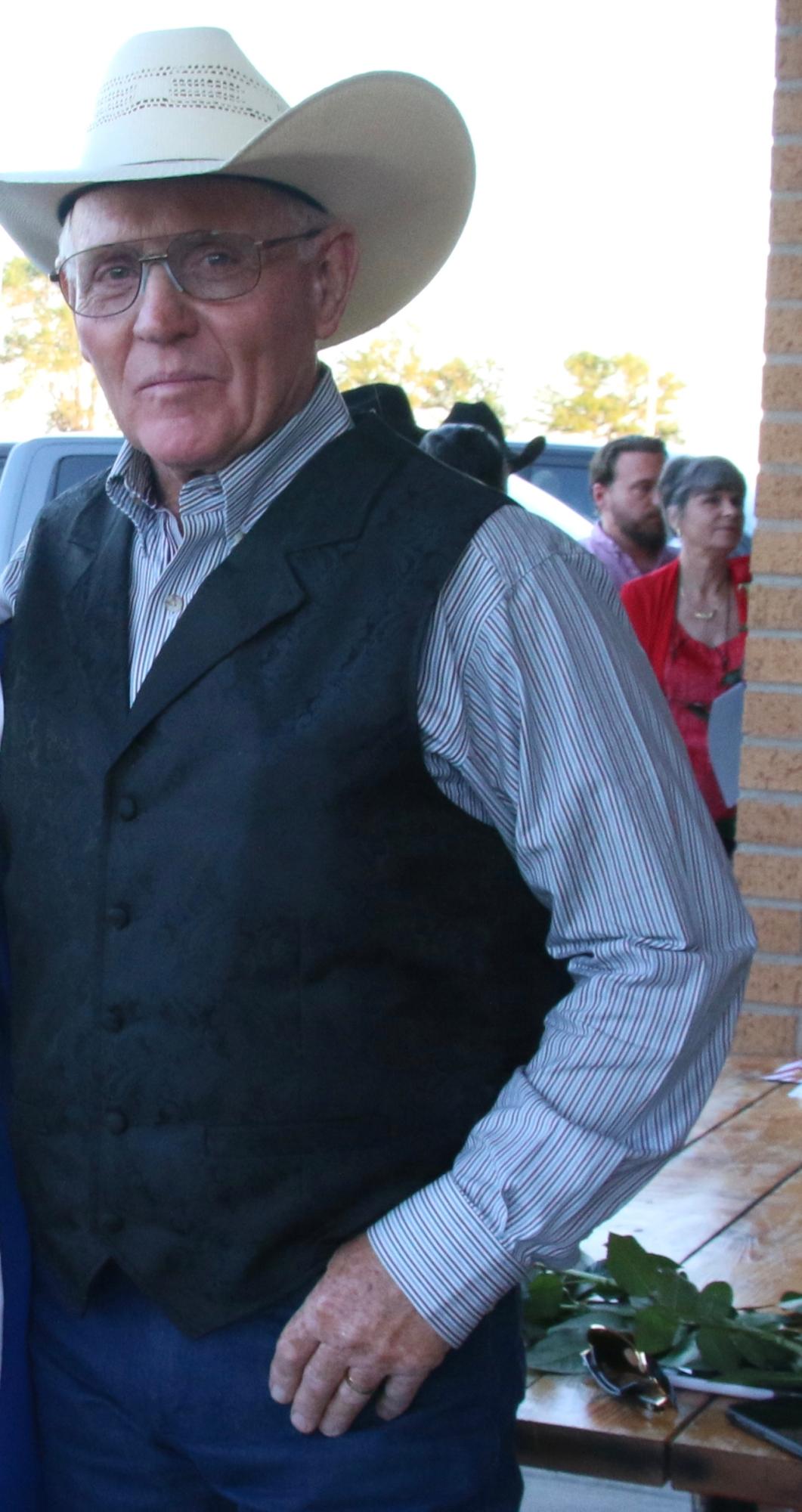 H. Jess Little
(Big Jess)